Business Financing – Austin – Whether you are a small business that is looking to grow, or a bigger business needing capital or a credit line, Elan Capital can help.
Business Financing – Austin
Sometimes, when your business is ready to make a move, you don't have the free liquid capital on hand to progress to the next step in your evolution. This kind of cash-strapping situation can occur if too much of your budget is bound to your non-liquid assets or even payroll commitments. When you need a genuine, quick solution, finding the right loan can be the difference between reaching your business goals or missing a chance to grow your business.
For any business for business financing solutions in Austin, there are plenty of traditional power-players for small business owners to partner with. Still, even with a significant number of prominent banking corporations here in Texas, major financial institutions always find ways to disappoint their would-be customers. For small businesses, trying to secure a small business loan with a traditional bank is a real shot in the dark. In fact, there are plenty of qualified small business owners who are put through the ringer. The lending process has become increasingly tedious and tiresome for business owners, in the last decade.
Routinely many traditional banking institutions make loan applicants wait about 90 days to learn if they've been approved with some applicants reporting waits as long as six months. In the end, 80% of loans are rejected.
Elan Capital searches for the best rates from banks and alternative lenders in the US, Canada and the UK.
(and 90% of our loans are ACCEPTED)
At Elan Capital, small business owners who apply for our funding alternatives are notified of their approval status within hours. In fact, most of our applicants only wait for less time than it takes to watch a movie on Netflix before learning they've been approved for working capital.
Outside of fast approvals, a significant advantage of our small business loans is that cash is deposited in your business bank account within 1-3 days.
From funding alternatives for spas and restaurants to landscaping and HVAC businesses, we've been proud to help fund the dreams of small business owners in Texas and beyond with the working capital they need to grow. At Elan Capital, we've built our reputation on fair & transparent agreements. This kind of openness and clarity is what has allowed us to become a leader in small business lending in Texas.
Small Business Loans in Austin – Elan Capital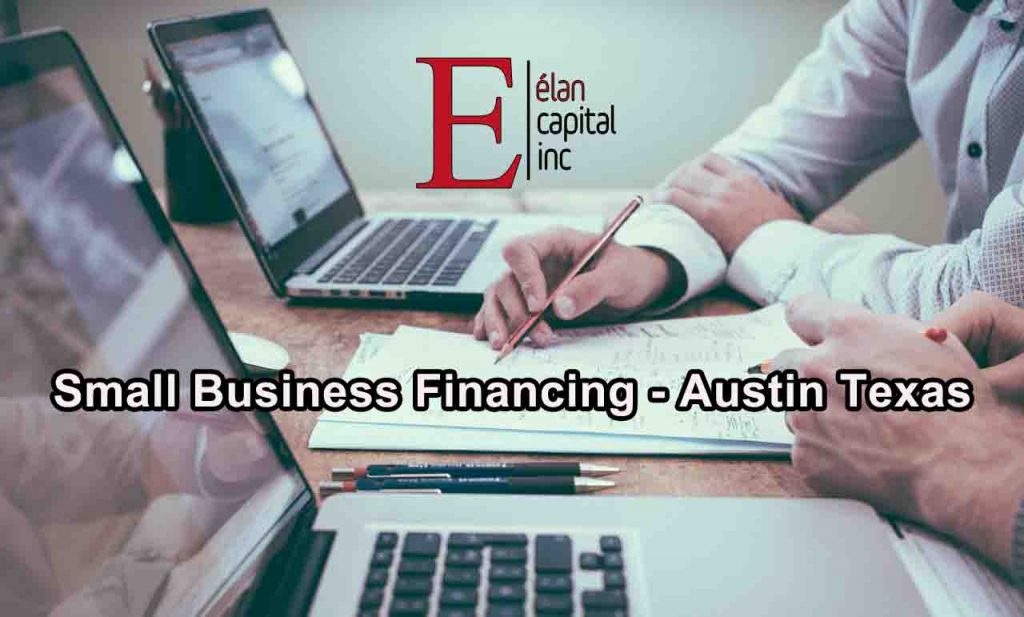 Elan Capital, Inc, serves the Texas small business market by providing small business loans and commercial lending for virtually any project or need; start-ups, business acquisitions, real estate, expansion, construction, remodels, refinance, franchises, equipment, inventory, furniture, fixtures, lines of credit and working capital.
Small business loans off all types here in Austin. One call. Dozens of lenders competing for your business. Personal service. Transparent.
Apply Today
And while the online sites each have their own lenders, Elan has direct access to over over 75 traditional and alternative lending sources.
For instance, some lenders specialize in low credit scores, while others focus on start-up loans, franchise and new business loans. We have lenders that concentrate on ultra-fast microloans, while other lenders we utilize prefer lines of credit, or more traditional short/ long term loans. Also, a handful of our lenders concentrate on working capital loans or unsecured business loans, while others specialize in merchant cash advance and factoring.
In short, Elan Capital can match you with lenders looking for businesses just like yours.
Today, with one free phone call, you can have dozens of lending sources competing for your loan.