Business Lines of Credit – Dallas – Fort Worth – Irving – 3 Months in Business – $120k Annual Sales – No Minimum FICO Needed – In Person Consultation.
Business Lines of Credit – Dallas
What is a Business Line of Credit?
A Business Line of Credit gives you the flexibility to access needed funds quickly and conveniently. It is an excellent tool that is designed to meet the specific needs of your business. One of its best features is that you only pay for what you use. This means you only get charged based on the amount you draw from your line of credit, rather than the entirety of the line of credit itself.
A business owner can draw as much as they want from their credit line as frequently as they want, up to a maximum predetermined amount. Once a repayment is made on any money drawn from a business credit line, that amount becomes immediately available once again. Even if you do not have an immediate need for funding, a Business Line of Credit is always smart to have for emergencies or for when an unexpected opportunity arises. And with a business line of credit, you are only charged interest on the amount of money you are using, not the entire line available.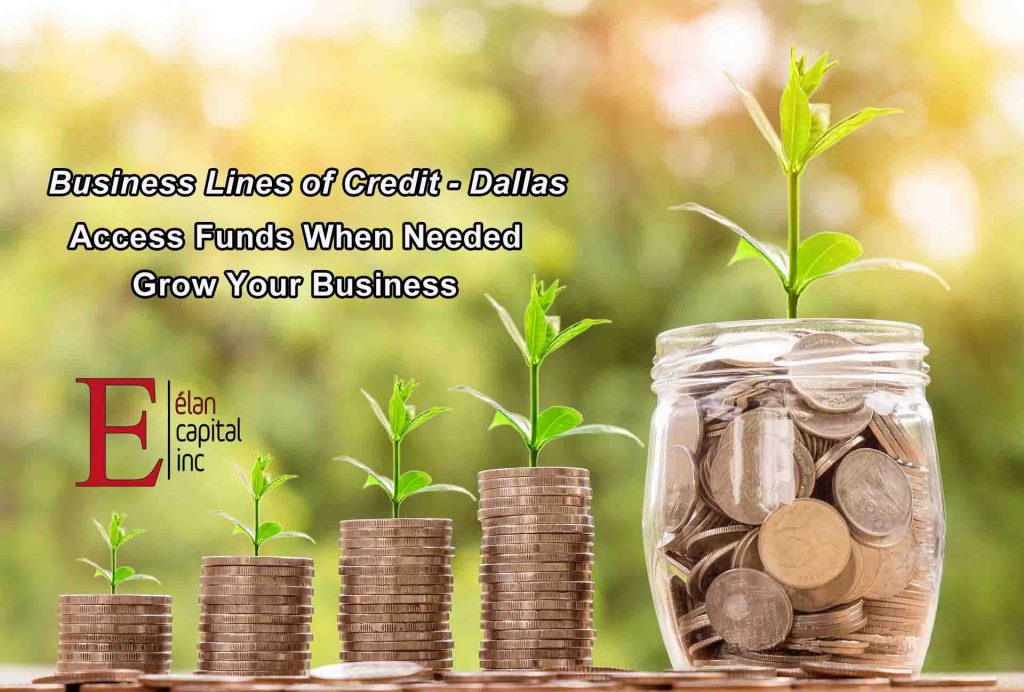 Do You Qualify For a Business Line of Credit?
We offer business credit lines to all companies that have been in business for over 3 months.
$120,000 in Annual Gross Sales
Whether you do $120,000 or $12,000,000 in sales, we got your back!
You don't need to have amazing credit to qualify for a business line of credit—we work with ALL credit profiles.
Elan Capital understands that every business has its own story, with their own unique goals for growth. Elan listens carefully to YOUR story before connecting you with a Global Marketplace of over 75+ Lenders to find the best business lines of credit that perfectly match your needs. You will be paired with a Business Financing Advisor, who will be there to help answer any questions, and guide you through the financing process from start to finish.
Elan Capital has revolutionized the business line of credit funding process by not only meeting you in person, but also simplifying the application and eliminating unnecessary paperwork, giving you the ability to secure financing in as little as 24 hours to a few days.
Business Lines of Credit in Dallas – Elan Capital
Loan Amount – $10,000 – $5Mil

Flexible Terms – 6 Months – 10 Years

Time to Fund1 – 3 Days
Access to cash on-hand, whenever you need it.
True Revolving Line of Credit

Access to capital on-hand, with the ability to draw more whenever needed.

Only Pay for What You Use

Never over-borrow—simply only pay for what you use.

Immediate Access to Capital as Needed

Use a business line of credit to have immediate access to capital for unexpected expenses or seizing new business opportunities.
The First Step is to Call Us.
While direct lenders use one source – Elan has over 75 traditional and alternative lending sources.
But You'll Never Know Unless You Call or Apply