Business Loans Bad Credit Dallas – Banks generally use a minimum FICO score of 640+ — Elan can work with businesses as low a 500+ Call Today for a Free Consultation.
Business Loans Bad Credit Dallas
Every business owner has been there… A landscaping company that needs new vehicles and equipment to achieve sales higher sales. A restaurant that see a new location opportunity in a prime location, but can't scrape up a loan to purchase the property…
Many smaller companies look to remodel, expand to new locations, hire new staff, order new equipment, make large purchase orders or repair equipment when facing heavy competition. And when small and medium-sized businesses are unable to free up the necessary working capital to make a significant improvement to their business, they'll often search out a working capital loan.
When business owners need funding for the next step in their business plan, most turn to the big traditional banks first. Unfortunately, the major lending institutions aren't always the best option for small businesses to get the cash they need.
Many banking institutions routinely make loan applicants wait 90 days or more to learn if they've been approved for small business loans or lines of credit, with some applicants reporting waits as long as six months or more. Here at Elan Capital, applicants are notified of their approval within hours, in fact, it's easier to measure in hours, not weeks and months.
And finally, let's talk about the elephant in the room.
Credit Scores.
The simple fact is in the traditional banking arena, your personal or business FICO score is one of, if not the most important factors regarding you application acceptance. 
In the new FinTech world of Alternative Business Lending, the FICO score simply is not weighted nearly as heavily as with traditional banks.
Banks generally want to see a Credit Score of 640+ before even handing you any initial paperwork. And even with that, they don't lend much under a million anymore. So even with a PERFECT score, your application for $250,000 will go no where fast.
Here at Elan we embrace businesses with FICO scores as low a 500 with open arms. For any amount from $5,000 to $2 Million
Business Loans Bad Credit Dallas – Elan Capital Inc – Irving Texas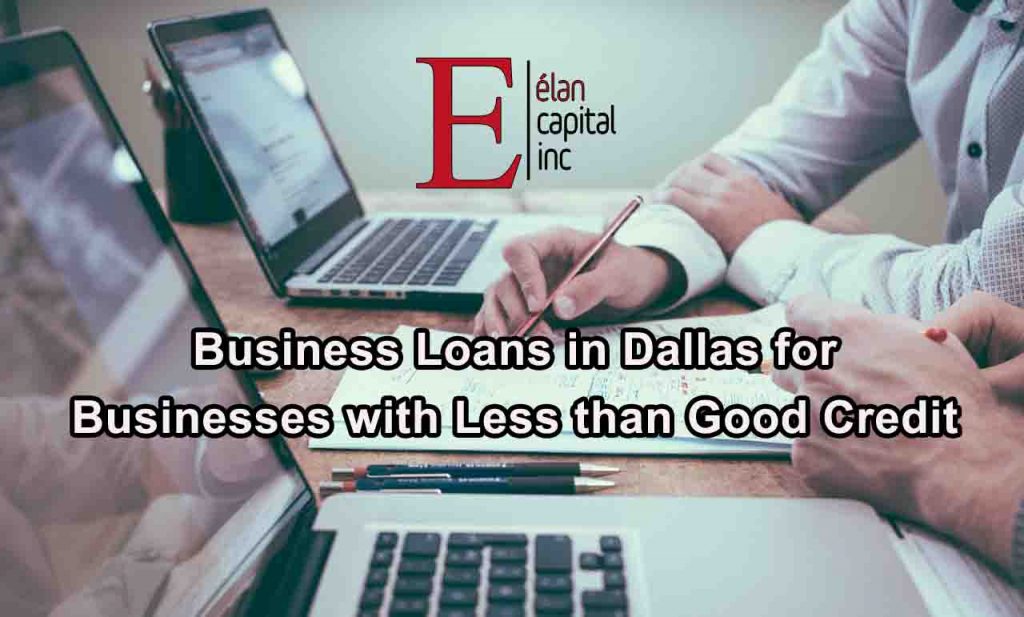 Here at Elan Capital, we assist small and moderate sized businesses, and quickly obtain working capital for their various needs. Elan has been an industry leader here in Texas, providing alternatives to traditional funding sources, and an innovator in providing cash advances and other financial services to businesses in the retail, restaurant and services industries. Additionally, Elan Capital can provide funds for merchants in as fast as 24 hours.
INQUIRY – Once your inquiry is received, a 24 Capital representative will contact you to explain the different program options available
APPLICATION – A short application will need to be filled out and submitted to us along with the last 4 months of bank statements in order for us to process your request.
REVIEW – Once all of the documents are submitted, our dedicated team will get back to you in 24 hours or less.
APPROVAL – After everything is approved a quick merchant interview takes place, and funds can be wired the same day!
When all is said and done, here is what working with a Elan Capital Loan Specialist gets you.
Elan Capital has direct access to over 75 traditional banks and alternative lenders in the US, Canada, and the UK.
One or more of them is likely looking for a customer Just Like You.
We pride ourselves on exceptional customer service, speedy responses, and outstanding offers & rates beating out the competition. The Elan Capital philosophy is to seek a funding option for almost every business that qualifies, regardless of credit history with no strings attached, no hassles, no hidden fees or unreasonable repayment requirements.
Today, with one free phone call, you can have dozens of lending sources competing for your loan.