Business Loans Fort Worth – With over 75 banks and alternative lenders, Elan Capital can match you with a company looking for businesses just like you.
Business Loans Fort Worth
With traditional banks rejecting just over 80% of small business loan requests, the market has exploded with options for small business owners to find the funds they need to fulfill their strategic goals.
Even better, your credit history, and more importantly, the credit history of your company, has very little effect on the process and approval of the loan (whereas that was the bank's most important factor) . Instead, what the lender is more interested in- is the fact that how much you are going to earn and how soon your receivables would turn. Moreover, they are also interested in the customer base of your business and the structure of your business.
All good news right?
The problem is actually trying to TALK to them. 
As you are most likely aware, "alternative" business loan sites are pretty hard to get a hold of on the phone.  And they don't send out a business specialist to meet face-to-face and answer all your questions.  Because as with any type of loan, you need to make sure to do your research and choose your lender carefully, right?
And, do any of the online "alternative" lenders have traditional banks in their arsenal? Ones that actually want to lend?
Elan Capital has direct access to over 75 different alternative and traditional lenders to match your needs to the appropriate business lender for a loan that works for you!
Business Loans Fort Worth – Elan Capital – Your Texas Lender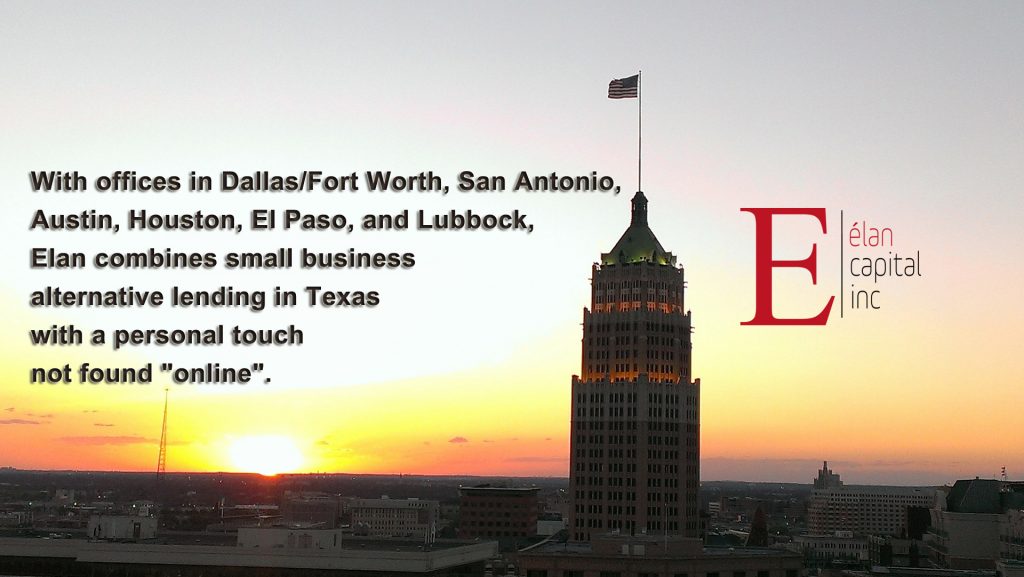 Elan Capital works with dozens of lenders in the U.S,, Canada and the U.K. who can provide business loans to both established and new small businesses in order to get you the best interest rate available.
With offices in Irving, Houston, El Paso, Austin, San Antonio and Lubbock, we will be more than happy to sit down, share a couple cups of coffee, and discuss your specific needs.
Elan offers a full slate of business loan services in Fort Worth Texas including;
Working Capital Loans
Start Up Loans
Equipment Loans and Leases
Business Lines of Credit
Professional Practice Loans
Franchise Loans
Merchant Cash Advance Loans
Commercial Property Loans
SBA Loans 
In addition to having offices throughout Texas, Elan Capital has has direct access to dozens of different alternative financing sources with hundreds of different lending programs covering nearly every industry and need.
Because there is no one size fits all here in Texas. Every business is different, even in the same industry. And because Elan Capital has so many financing sources, we have the right solutions  – at the right time –  for virtually any business owner or situation.
In short, we can match you with a lender that is looking for customers just like you.
Elan Capital, Inc.