Business Loans – Irving TX – Traditional and Alternative Lenders – Loans from 5k to 2M – Funding in days. Did your bank say "No"? Then Talk to Elan Capital – Your Texas Lender.
Business Loans – Irving TX
Over 75 Traditional and Alternative Lenders
With over 75 Traditional Banks and Alternative Loan Sources in the US, Canada, and the UK, Elan Capital, a Texas-based Corporation, is uniquely positioned to provide working capital to vertically any type of business, with almost any credit score. 
When your banks says no… we can say YES. 
Why?
How is Elan Capital Different From All The Online Lenders?
First and most importantly, Elan has direct relationships with over 75 traditional banks and alternative lenders. So while one bank may not want to make a small business loan (typically because they don't wish to pursuer loans under $1 million), another bank in the US, Canada, or the UK may say yes. And if that doesn't pan out, there are dozens of alternative lenders who will bid for your business. 
Case and point. Recently a small business owner here in Texas called us because their bank doesn't typically loan in amounts under a million or more. All they wanted was $150k. We found a loan with great terms at a great rate and DONE.
What can we do for YOU?
Business Loans – Fast Funding – Easy Application – Talk to a business loan specialist that lives and works in Texas – Elan Capital – Call us today and  get the funding you need to grow your business.
New banking regulations have opened up more options for business owners. Alternatives to traditional banks have popped up online.
But how do you choose the loan that's right for you?
That's where Elan Capital can help.
Based in Texas
over 75 Traditional and Alternative Sources
Business Loan Specialists
Our high approval rates mean that we can say 'yes' when traditional lenders say no. You'll get a dedicated Loan Specialist who will provide you one-on-one personalized service (often time in person) with a simple phone call.
Business Loans – Irving TX – Elan Capital, Inc
Unlike the online vendors, Elan Capital has access to dozens of different lenders, all with different products for different needs. For instance we have products specifically designed for insurance agencies. Other lenders want businesses that sell products… While others concentrate on the service industry, Get the picture?
While Elan has 100's of different programs, our small business loans in Austin, can be broken down to four main "categories".
Term loan is a lump sum you borrow and repay on set terms, including the annual percentage rate. This is generally the least expensive type of financing.
A line of credit gives you access to a set amount of cash that you can tap when necessary. This is generally used by businesses that need short-term financing to bridge cash flow gaps (ex. seasonal businesses).
Invoice factoring, also known as invoice financing or accounts receivable financing, is an option for small businesses that deal with unpaid invoices. Instead of just waiting to be paid, you can get an advance on those invoices, which you then pay back along with a fee when customers settle their accounts. This is popular option where there is a big one-time expense.
A merchant cash advance offers a way to get an advance on future credit card/debit card sales.
Small Business Loans – Irving TX – Elan Capital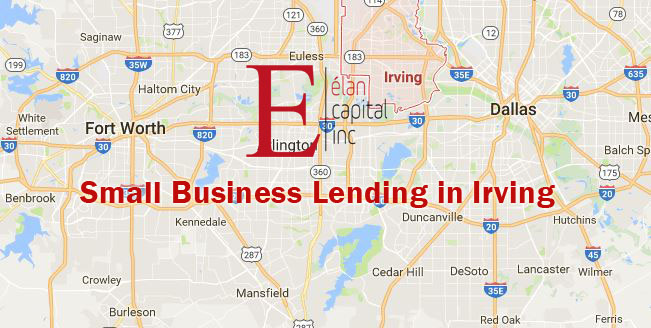 Working Capital Loans
Equipment/ Vehicle Leases and Loans
Merchant Cash Advance
Business Lines of Credit
Professional Practice Loans
Franchise and Business Startup Loans
Accounts Receivable Loans
Commercial Property/ Construction Loans
SBA Loans
No hassles, no surprises, no complicated paperwork, no long approval process  — Elan Capital can quickly and easily customize a business loan that works for your business, so you can get on with the business of building up your bottom line.
Elan Capital can give your business access to all of these types of financing and more, along with personal service not found in the online lending world.
Today, with one free phone call, you can have dozens of lending sources competing for your loan.