Elan Capital has true business startup loans in Dallas, Fort Worth, Arlington and Irving Texas. Real term loans to $250,000 from Elan Capital Inc.
Business Startup Loans in Dallas
While banks require 3-5 years in business before even talking about a business loan, and online lenders require at minimum of 12 months in business with various sales volume requirements, Elan Capital has banks, credit unions and alternative sources for serious business startup loans in Dallas and throughout Texas. Additionally, this is a true term loan, not a credit card.
That trick is for the traditional banking world.
The Big News here in Texas. Elan Capital offers brand new business loans and business startup loans in Dallas, with additional offices in Houston, San Antonio, Austin, El Paso, and Lubbock.
Unsecured new business and startup loans in amounts up to $250,000.
These loans are not available online – Call Elan Capital Today 888.615.1418
You read that right. These are unsecured loans. 
Even Bigger News – The Elan Capital startup loans in Texas feature the lowest cost of unsecured credit available. Many of our clients are paying single digit rates for their business startup loans in Dallas and throughout Texas and the U.S.
Startup Funding up to $250,000
No advance fees – No upfront costs
No Assets or Collateral – Low Rates
Even if your business is "pre-revenue" and has NO assets or collateral, funding IS available.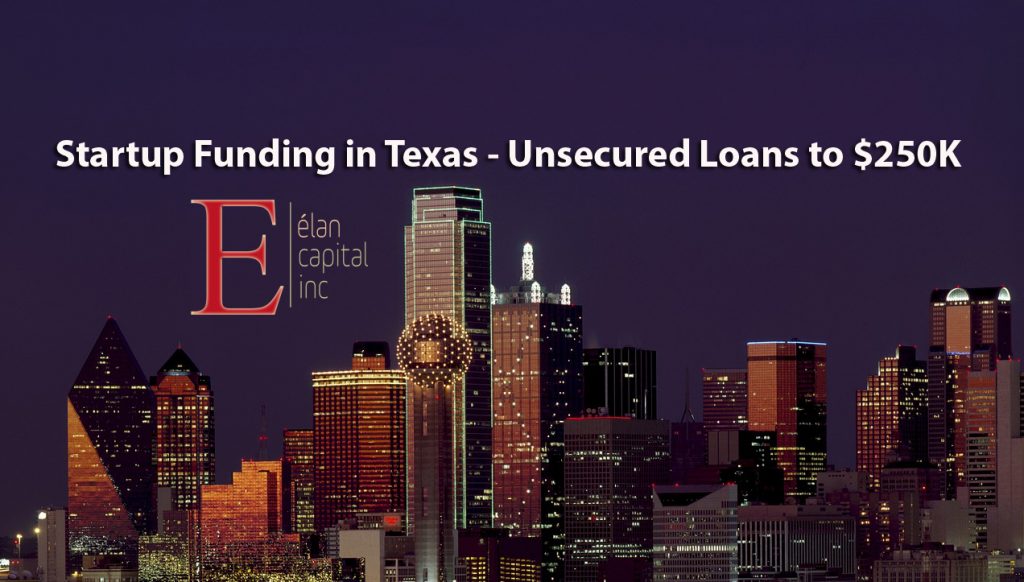 And we'll target your application to the banks, credit unions ans lending sources most likely to provide exactly what you and your company needs! This benefits you twofold. It increases your chances of successful funding, and keeps your credit from getting "dinged" by too many credit inquiries. Additionally, it also helps to build solid relationships with lenders in the future.
These loans are perfect for businesses that are just getting started as well. If you are less than 12 months in, this is a great opportunity to get the cash you need to quickly grow your business.
Business Startup Loans in Dallas – Unsecured New Business Loans
It all Starts with a Call.