From startup lending to equipment leases to short and long term loans, Elan Capital offers the largest variety of commercial loans in Houston.
Commercial Loans in Houston
Nearly 1 in 4 small businesses used an online lending source last year.
Last year online lenders had a 15% satisfaction level. 
So why is online lending exploding when virtually no one is satisfied?
Back before the banking crash of 2007-2008, online lending was primarily for those businesses who had less than stellar credit.
Then after the the crash, traditional banks, which have used the same loan application process for half a century, stopped lending smaller amounts (the sub $250,000 loans that small businesses generally ask for), and focused on larger loans. This was because the processing costs were the same on a $100,000 loan as they are on a $10 million loan.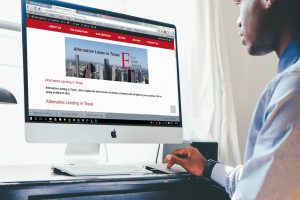 So today, small businesses go online for their business loans for two reasons.
Availability and speed.
Traditional banks don't generally process small loans.
Online lending takes 1/50 of the time.
But why the low satisfaction scores when compared against traditional banks at 59%?
The problem is that in the vast majority of online lending platforms, you simply can't speak to anyone.
You can't ask questions. You can't sit down and get any advice about what's right for your business and your situation and your goals.
And E-mails are so 90's.
Commercial Loans in Houston – Online Loans in Person
The biggest problem is they all compete against each other.
How is that a problem you ask?
Each online lender uses their own in-house lenders.
But what if you could fill out one simple application and shop that loan request between lenders to get the best deal, all while being able to sit down with a small business specialist and get professional advice?
You'd have Elan Capital Inc.
Commercial Loans in Houston – Version 2.0
Elan Capital has offices in Houston, Dallas, San Antonio, Lubbock, El Paso, and Austin.
And Elan has direct access to dozens of lenders. 
For instance, some lenders specialize in low credit scores, while others focus on start-up loans, franchise and new business loans. We have lenders that concentrate on ultra-fast microloans, while other lenders we utilize prefer lines of credit, or short/ long term loans. Also, a handful of our lenders concentrate on working capital loans or unsecured business loans, while others specialize in merchant cash advance and factoring.
Additionally,  a few lenders primarily target construction loans and real estate loans, while others focus primarily on leasing and its related tax benefits. And some even focus on various different types of businesses, such as Professional Practices, Farming/Agricultural, Health Care and more. And Elan has SBA loan programs as well.
As an independent entity, Elan is not tied to one lender and instead, we can have many lenders working their hardest, to gain your business.
While Elan has dozens of lenders and 100's of different programs, small business financing can be broken down to four main "categories".
Term loan is a lump sum you borrow and repay on set terms, including the annual percentage rate. This is generally the least expensive type of financing.
A line of credit gives you access to a set amount of cash that you can tap when necessary. This is generally used by businesses that need short-term financing to bridge cash flow gaps (ex. seasonal businesses).
Invoice factoring, also known as invoice financing or accounts receivable financing, is an option for small businesses that deal with unpaid invoices. Instead of just waiting to be paid, you can get an advance on those invoices, which you then pay back along with a fee when customers settle their accounts. This is popular option where there is a big one-time expense
A merchant cash advance offers a way to get an advance on future credit card/debit card sales.
Elan Capital Inc, has many subsets including;
UNSECURED BORROWING 
FACTORING RECEIVABLES
WAREHOUSE FINANCING
ACCOUNTS RECEIVABLE
AGRICULTURAL LOANS
FLOORING LINES
MACHINERY LOANS 
INSURANCE AGENCY LOANS
MEDICAL PRACTICE LOANS
WORKING CAPITAL LOANS
GOVERNMENT GUARANTEED LOANS 
INTERNATIONAL LOANS
ACQUISITION LOANS 
EQUIPMENT LEASING
BUSINESS START-UP LOANS 
COMMERCIAL PROPERTY LOANS
CONSUMER RETAIL CREDIT
SBA LOANS
INVENTORY LOANS
AND MUCH MORE
Commercial Loans in Houston – Small Business Loans in Houston
Opportunities Abound – But Do You Have the Cash?
Maybe you have a "can't-miss-this" deal on inventory or new equipment
Perhaps you can buy out a partner, or avoid having to take on a partner just for the funding
You may have an opportunity to expand into a new location
or just about any good situation for your business to grow
Challenges Await – Fast Funding is the Option
Harsh weather or roadwork forces customers to stay away
Seasonal or economic fluctuations that impact your bottom line
Unexpected Occurrences – equipment stops working and needs replacing; a freezer in an ice cream shop, a tractor on a farm, a stove at a restaurant. Stuff happens, and it's seems to happen right after you paid off a mess of other bills.
Small Business Loans in Dallas From Elan Capital, Inc.
Whether you're a restaurant, retailer, service industry, farming, medical or professional practice, or any type of business; having an Elan Capitol specialist examine your situation closely will help determine the best financing option.
Gaining access to capital can be the deciding factor in whether or not a small business grows through opportunity or survives the challenges.
Elan Capital can help with both.
New Business and Startup Loans in Houston
It's not news that the traditional banking system will want to see a fair number of years in business (typically 3-5) before you can even think of applying for a small business loan.
It's not news that online lenders generally want to see a minimum of at least 1 year in business before lending to a small business, as well as minimum sales income.
What is news is that Elan Capital offers business startup loans in Houston. Real term loans with no collateral in amounts up to $250,000.
Even Bigger News – These Elan Capital business startup loans in Houston Texas feature the lowest cost of unsecured credit available. Many of our clients are paying single digit rates for their startup loans in Texas and throughout US and abroad.
Startup Funding up to $250,000
No advance fees – No upfront costs
No Assets or Collateral
Low Rates
Small Business Retail Financing in Houston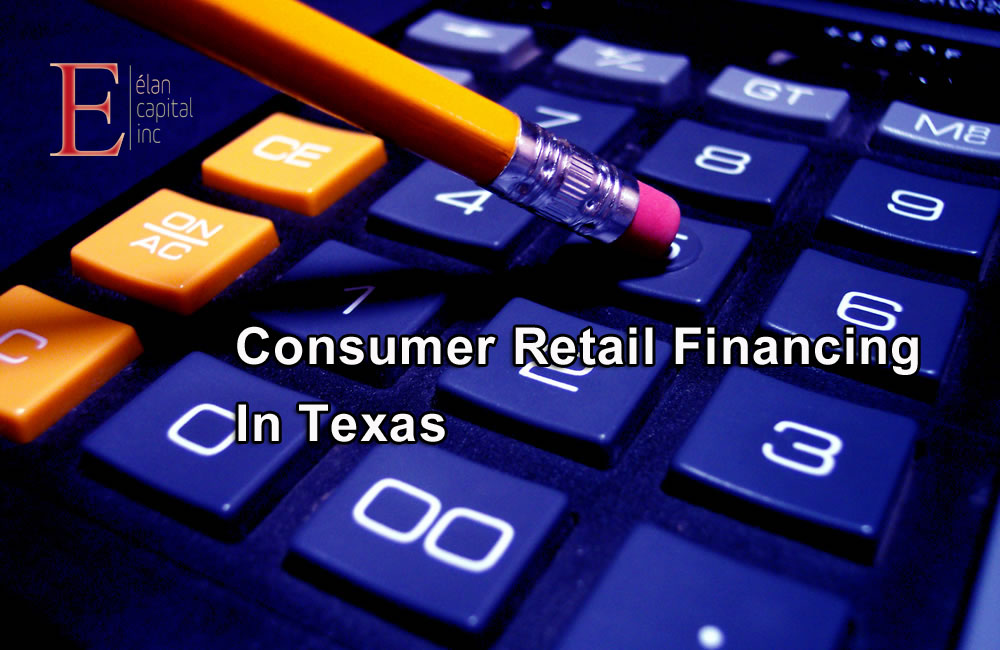 Sometimes, it's not the business that need financing, it's their customer.
Offering financing to customers is the best way you can increase order sizes and drive more sales. For decades, large merchants have offered financing because they know increasing their customers' buying power is an easy way to boost sales and increase income.
But until now, smaller businesses haven't been able to use this tactic because of the costs and risk associated with providing their own financing. And many small businesses have discovered the cost of offering a consumer financing program, doesn't make sense for the number of times they use it.
Until Now.
Put the Power of Retail Financing to Work for Your Business Today
Affordable for any business, and a great closing tool.
Small Business Consumer Retail Financing in Dallas For;
Auto Repair
Outdoor Power Equipment
Musical Instruments
Clothing
Jewelry
Electronics
Mattresses
Furniture
Appliances
and Much More
Simply stated, Elan Capital has more financing options available here in Houston, than any traditional bank or online source.
Call us today and speak with a small business specialist, because today, with one phone call, you can have dozen's of lenders compete for your business.
Small Business Commercial Loans in Houston