Commercial Loans – Waco Texas – Over 75 traditions banks and alternative lenders – one easy application – Funding in as little as 3 days. Elan Capital is Texas Lending Redefined.
Commercial Loans – Waco Texas
Over a decade since the great recession of 2008/9 and the effects are still being felt by small business owners.  According to a recent study from the Federal Financial Institutions Examination Council (FFIEC), the number of traditional bank small-business loan originations is down 41.4% since 2008. For comparison, the US economy has grown almost 25% over the same period, according to the US Chamber of Commerce.
And with over 75% of small-business loans denied by large institutions in the US, it has forced a change in the marketplace – small businesses are actively exploiting other available options, whether it's loans from smaller institutions, credit unions or online lending platforms.
Here in Texas, you have yet another option.
Elan Capital
And many of our applications take less than 30 minutes start to finish.

Funding can be released in just a few days.
But the difference is we have access to the products that are right for your business combined with the personal touch you used to have with your bankers.
Our goal is to grow with you.
Commercial Loans – Waco Texas From Elan Capital – Texas Lending Redefined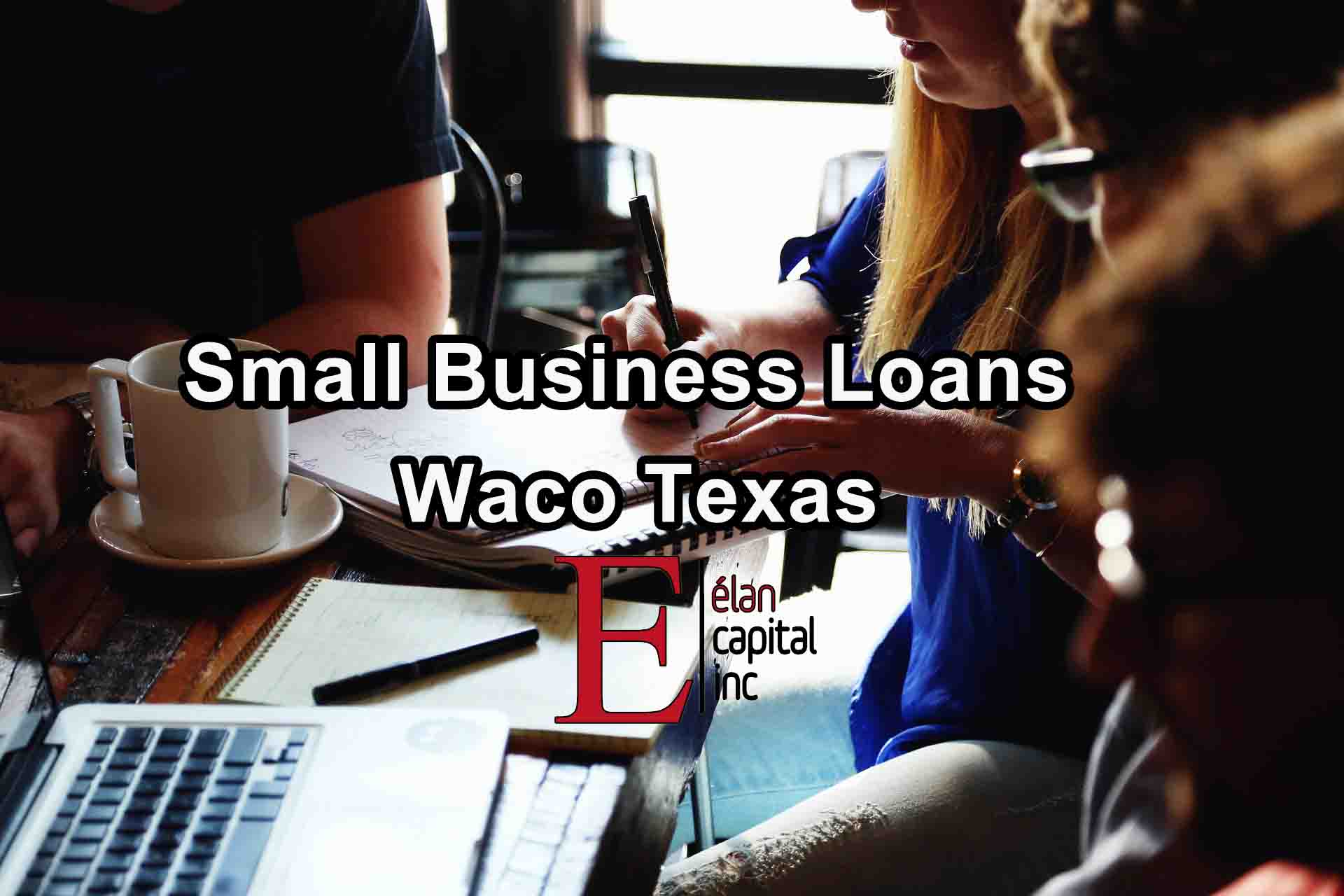 Unlike the online vendors you see advertised on T.V. and online, who typically engage one lender, Elan Capital has direct relationships with over 75 alternative AND conventional lenders.
And even better, your simple application can generate many lenders competing for your business. It also means that Elan Loan Specialists (who whenever possible like to meet you in person) can help businesses grow.
While Elan has 100's of different programs, our small business loans in Waco, and throughout Texas, can be broken down to four main "categories".
Term loan is a lump sum you borrow and repay on set terms, including the annual percentage rate. This is generally the least expensive type of financing.
A line of credit gives you access to a set amount of cash that you can tap when necessary. This is generally used by businesses that need short-term financing to bridge cash flow gaps (ex. seasonal businesses).
Invoice factoring, also known as invoice financing or accounts receivable financing, is an option for small businesses that deal with unpaid invoices. Instead of just waiting to be paid, you can get an advance on those invoices, which you then pay back along with a fee when customers settle their accounts. This is popular option where there is a big one-time expense.
A merchant cash advance offers a way to get an advance on future credit card/debit card sales.
Elan Capital Inc, has many subsets including
INVENTORY LOANS
UNSECURED BORROWING 
FACTORING RECEIVABLES
WAREHOUSE FINANCING
ACCOUNTS RECEIVABLE LOANS
AGRICULTURAL LOANS
FLOORING LINES
MACHINERY LOANS 
INSURANCE AGENCY LOANS
MEDICAL PRACTICE LOANS
WORKING CAPITAL LOANS
GOVERNMENT GUARANTEED LOANS 
INTERNATIONAL LOANS
ACQUISITION LOANS 
EQUIPMENT LEASING
BUSINESS START-UP LOANS 
COMMERCIAL PROPERTY LOANS
SBA LOANS
AND MUCH MORE
The deregulation of the banking industry has made new choices available that never existed a few years ago. One of these is the availability of money though alternative lending sources. The types of business loans vary to your specific business needs. There are many different loans that can be arranged by a Elan Capital.
Elan Capital can give your business access to all of these types of financing and more, along with personal service not found in the online lending world.
And with offices in throughout Texas, we look forward to working for you.
Today, with one free phone call, you can have dozens of lending sources competing for your loan.