Fast Business Loans in San Antonio – Funding in as little as 48 hours – Personal Service – Local Lender – No Hidden Fees – Get Funded Today.
Fast Business Loans in San Antonio
There used to be a time when a small business owner with decent credit could walk into a bank and get approved for a business loan.
And still have time to take hop in the DeSoto, grab a bit to eat at Mel's and hit the double feature at the drive-in.
Today, according to a recent Wall Street Journal report, most banks won't lend to businesses any younger than 10 years.
And any bank loan today requires reams of paperwork.
Then along came online lenders.
And there is no doubt that online lenders have been filling a need for nearly a decade since the credit crash of 08/09.
But Business Lending is tricky. Especially if you are the "lendee".
And you should have plenty of questions when you are searching for a loan that will best work for your particular situation.
That's where Elan Capital helps.
Fast Business Loans in San Antonio With Personal Service

Elan Capital offers business funding and fast small business loans in San Antonio with a personal touch you just can't get online.
Hiring new employees, making equipment purchases, replenishing depleted inventory, purchasing real estate and increasing working capital are just a few business transactions that may require timely business loans here in San Antonio Texas.
But who has the time to find the right online lender for your needs?
And business loans from banks are great if you can actually get one but the long application and underwriting process means it can take many months to get your money. Additionally, banks don't make many small business loans anymore, even if you have outstanding credit.
If you've searched for online lending, you've likely noticed that the "fast cash" limits vary greatly, and while some say you need to be in business for 1-3 years to apply, others focus on start-up businesses, and others have monthly or annual sales revenue requirements.
The only thing all the online lenders have in common, is that they all have different requirements. 
Need to talk to a lending professional that lives and works here in Texas?
Then you need to call us at Elan Capital.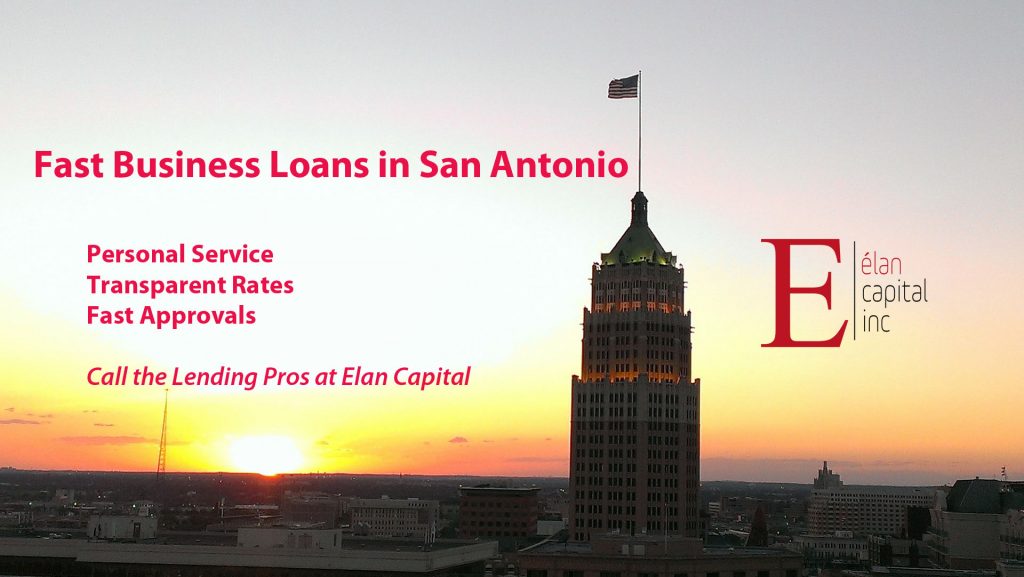 Fast Business Loans in San Antonio With Personal Service From Elan Capital Inc.
Elan Capital has offices in San Antonio, Austin, El Paso, Dallas, Houston and Lubbock.
And we utilize dozens of different lenders. Because we know every situation is unique. 
Chances are good, we have a lender that meets your needs.
And when you connect with an Elan Capital Funding Specialist, you gain access to programs across the United States as well as Canada, Australia, South America, and the U.K.
Best of all, these funding sources are monitored daily for the best interest rates and terms available to your business.
Today, with one free phone call, you can have dozens of lending sources competing for your loan.