As a small business, your personal credit and business credit are closely linked in the eyes of lenders. So it is important to take steps to protect both.
Personal Credit vs Business Credit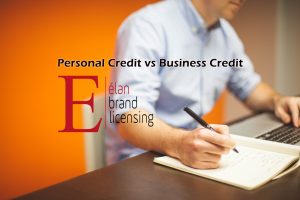 As a business owner, you have not one, but two credit scores. But let's back up for a moment.
If you are like most business owners, you may have used personal savings, borrowed from relatives and patched together enough funding to pay bills during the difficult early months. You may have many of the characteristics of successful entrepreneurs, but what you probably didn't have was excellent credit.
Many entrepreneurs start without good credit. Some start a business because they were laid off and don't have many alternatives. Others start a business when opportunity strikes, rather than waiting until their personal financial situation is in good condition. And others have suffered through divorces and personal bankruptcies that can ruin their credit.
The bottom line is most businesses owners are focused on their businesses, and occasionally, their own personal credit score.
Personal Credit vs Business Credit
Many small business owners use personal credit to run their business. However, this could put you at risk. Additionally, today many lenders are moving away from relying on personal credit alone when judging a business's financial health, since personal credit is not considered an ideal predictor of business behavior. Add to this, savvy creditors are taking advantage of new blended commercial scoring tools that integrate both personal and business credit information to assess and predict small business risk.
Personal Credit
Personal credit scores work for business loans the same way as with any other loan. Anything less than a 750 means you probably cannot find a small business loan at the national banks. With a score of 750-800 most bankers would "do you a favor" and process a small business loan. Banks just don't process small loans (10k -1M) much these days. Your personal credit is linked to your Social Security number. 
Business Credit
Businesses receive credit scores the same way private individuals do, but business credit reports go by a 0-100 scoring system. Factors that go into a business credit profile include how often you pay your bills, credit history, and your available credit. Most lenders consider a score of 75 as "good" and anything less may make it harder to find a business loan, but there are no particular cutoff scores. Your business credit is linked to your Federal Tax ID.
Differentiate your business credit from your personal credit.
Your personal credit score is determined by several factors, including outstanding debt balance on personal credit cards, the number of open lines of credit accounts, your bill payment history and late payment history, and more. Your business credit score is determined by similar factors but it is linked to the tax ID for your business, not your Social Security number.
If you do not have strong personal credit, you should pay special attention to ensuring that you build a good business credit history with companies like Equifax and D&B.
This important difference can help you get your business off the ground.
The last decade has brought more financial solutions to business owners than anytime in history. 
At Elan Capital, we understand that business owners here in Dallas, and across the country, simply needed a better way to fund their business. Elan supports growing businesses by providing credit when they need it without the hassle. We add value and our relationship grows as your business grows.
Today, with one phone call, you can have dozens of lending sources competing for your loan.