In addition to small business startup funding in San Antonio, Elan offers affordable small business loans and leasing programs from over 30 lenders.
Small Business Startup Funding in San Antonio
With offices in Irving, San Antonio, Houston , El Paso, Austin and Lubbock, Elan Capital Inc empowers small businesses with the funding they need to start, grow and maintain their business here in Texas. 
Business Startup Lending
Small Business Loans
SBA Loans
Small Business Leases
Commercial Retail Financing
Every business has five major components necessary to operate. These are personnel, equipment, housing, products and services, and last but most vital, is capital.
It takes capital to get the other four.
Business owners often fear banks and commercial finance companies. This fear has its foundation in a lack of lender knowledge. Elan Capital knows the ways of these lenders and has the contacts to secure financing for virtually any type of business, for nearly any reason or need.
Small Business Startup Funding in San Antonio from Elan
Elan Capital, a leading provider of small business loans located here in Texas, now has access to multiple lenders who will provide new small business startup funding in San Antonio, and throughout Texas, with unsecured lending up to $250,000.
Many of our clients are paying single digit rates for their startup loans in Texas and throughout US and abroad.
Startup Funding up to $250,000
No Advance Fees – No Upfront Costs
No Assets or Collateral
Low Rates
And with Elan Offices in Dallas, Houston, San Antonio, El Paso, Lubbock and Austin, we have Texas startups covered.
If you are committed to opening a business in San Antonio, Elan is committed to helping you get started.
Even of your business is pre-revenue or you have no assets or collateral, there is unsecured funding available.
And this is not a credit card. This is a real loan to get your business up and running smoothly.
Small Business Startup Funding in San Antonio (and More)
In addition to small business startup funding in San Antonio, Elan also offer many types of small business loans. 
Small Business Loans in San Antonio
Some of our popular loan and lease options include;
UNSECURED BORROWING 
FACTORING RECEIVABLES
WAREHOUSE FINANCING
ACCOUNTS RECEIVABLE LENDING
AGRICULTURAL LOANS
FLOORING LINES
MACHINERY LOANS 
INSURANCE AGENCY LOANS
MEDICAL PRACTICE LOANS
WORKING CAPITAL LOANS
GOVERNMENT GUARANTEED LOANS 
INTERNATIONAL LOANS
ACQUISITION LOANS 
EQUIPMENT LEASING
BUSINESS START-UP LOANS 
COMMERCIAL PROPERTY LOANS
SBA LOANS
INVENTORY LOANS
AND MUCH MORE
Retail Consumer Financing Programs for Small Businesses in Texas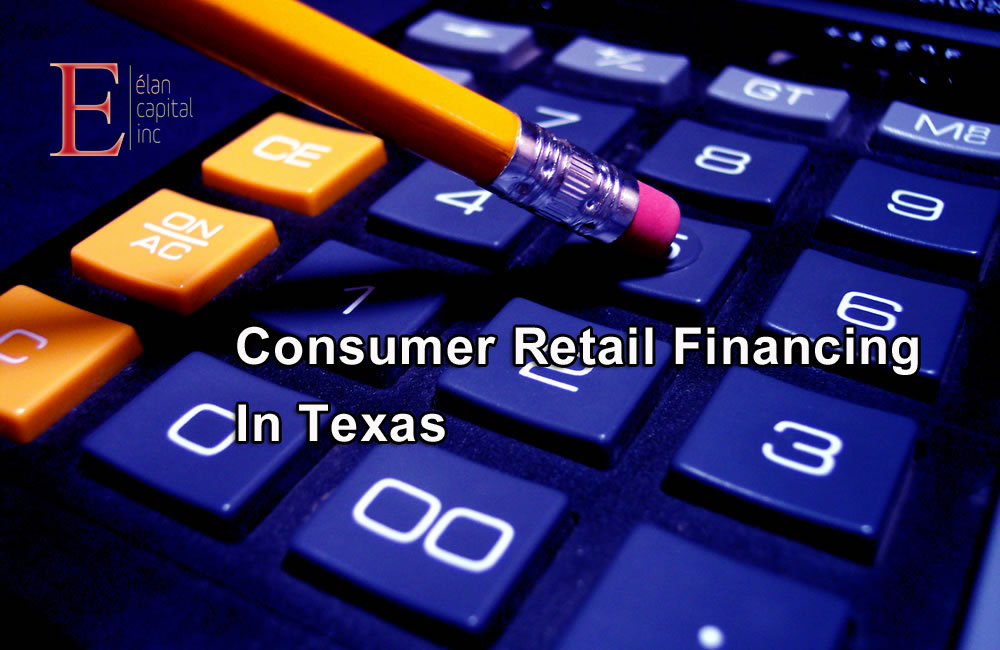 For many businesses, access to a consumer financing program is a valuable tool, but may not often be used because of a high fees and monthly charges.
The Elan Capital Consumer Retail Financing Program is designed to be affordable for any small business. Your business can be approved and set up in a day or two and your customers can easily apply and have an answer in minutes.
Until now there have been very few solutions that cater to small businesses with low numbers of loan transactions. This program offers very low fees and maintenance charges.
Affordable for any business, and a great closing tool.
Small Business Consumer Retail Financing in Texas For;
Auto Repair
Outdoor Power Equipment
Musical Instruments
Clothing
Jewelry
Electronics
Mattresses
Furniture
Appliances
and Much More
Elan Capital – More Funding – More Options for Small Businesses
In need of small business startup funding in San Antonio? Need a loan to grow your business? Are your customers looking for financing?
For the best service and selection, call Elan Capital.
Today, with one phone call, you can have dozens of lending sources competing for your loan.