New Business Loans in Dallas – If your business is not 3-5 years old, forget a bank loan. But if you have been in business 1 year, we can help you.
New Business Loans in Dallas
Back in the day, your local banker would want to see that you've been in business at least two years before even considering a business loan. Since 2009, that bar has moved. Now bankers won't even talk to you unless you have 3, 4, and even in many cases, 5 years in business under your belt.
Banks make a major portion of their profits from loans. They're not in the business of saying no; they just say it when your application doesn't meet their lending requirements, which are much stricter now than before the financial crisis.
But be aware that new businesses are almost always considered risky bets, and many lenders are reluctant to finance them. Also you should know that many larger banks won't even consider small loans, which are less profitable than larger loans but require the same amount of time to analyze and administer.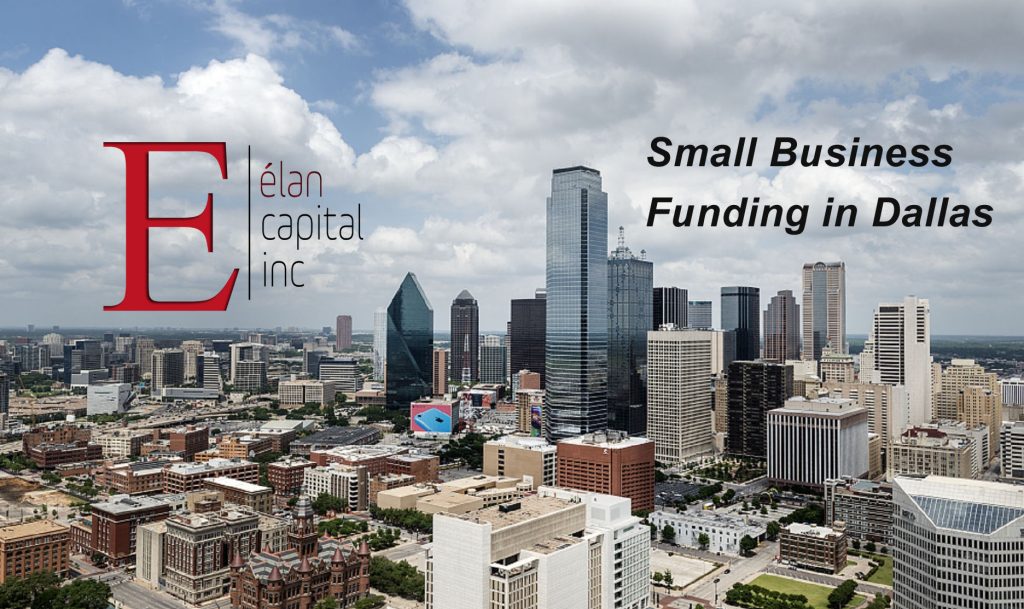 A New Way For New Business Loans in Dallas
So now that we've established that, at least in a banker's eyes:
A "New Business" is still a New Business half a decade in.
The banks want BIG loans that most modest small businesses don't need.
What if we told you that you can get a business loan with 1 year in business? And what if we told you that you won't need years of independently audited financial statements? And lastly, what if we could tell you that you can have your loan in days, not months?
Is it worth a call?
New Business Loans in Dallas, Houston, San Antonio, Austin, Lubbock and El Paso
Elan Capital combines the best aspects of online lending (speed) with exceptional personal service right here in Dallas. Elan has direct access to dozens of small business funding sources which translates into hundred of different lending programs for virtually any need, in any industry.
And with offices in Dallas, Houston, San Antonio, Austin, Lubbock an El Paso, Elan Capital provides businesses throughout Texas with fast, flexible funding, and a much easier approval process.
And when you connect with an Elan Capital Funding Specialist, you gain access to programs across the United States as well as Canada, Australia, South America, and the U.K.
Best of all, these funding sources are monitored daily for the best interest rates and terms available to your business.
Here at Elan Capital, we work with dozens of different lenders, resulting in over 100 different lending programs. Let us custom design a lending program that works for YOU.
Finding the right source for quick capital and fast new business loans in Dallas is the first step in the process, so contact the experts at Elan Capital today to investigate your options.
You might be surprised at what you'll find when you work with the leader in small business lending in Texas.
Elan Capital.
Today, with one free phone call, you can have dozens of lending sources competing for your loan.