Selling a small business in Texas? Call Elan to get the best offer and terms. Selling your car yourself is one thing, selling your business is our thing.
Selling a Small Business in Texas
It's entirely possible to sell a business the same way you sell a used family vehicle, you'll benefit by using a broker such as Elan, when selling a business in Texas.
Over the next decade, six out of ten U.S. business owners plan to sell their companies – a noticeable increase over previous years. Many are baby-boomers, with an eye on selling their businesses to fund their retirement and as a result sale preparation and exit strategy are high priorities.
Additionally, 59% of global executives surveyed plan to pursue acquisitions in 2016 – of these 48% plan to pursue targets outside of their own sector and the top investment destination is the United States. (Source: Ernst & Young Global Capital Barometer, October 2015).
In other words, it's a good time to sell.
When selling a business in here in Texas, you don't just want any buyer, you want the very best buyer. With the market we're now experiencing, many sellers are getting multiple offers, but some of those offer may not be right for you, and that's where a broker comes into the picture.
Why Use a Broker?
The Benefits of Using a Broker When Selling a Small Business in Texas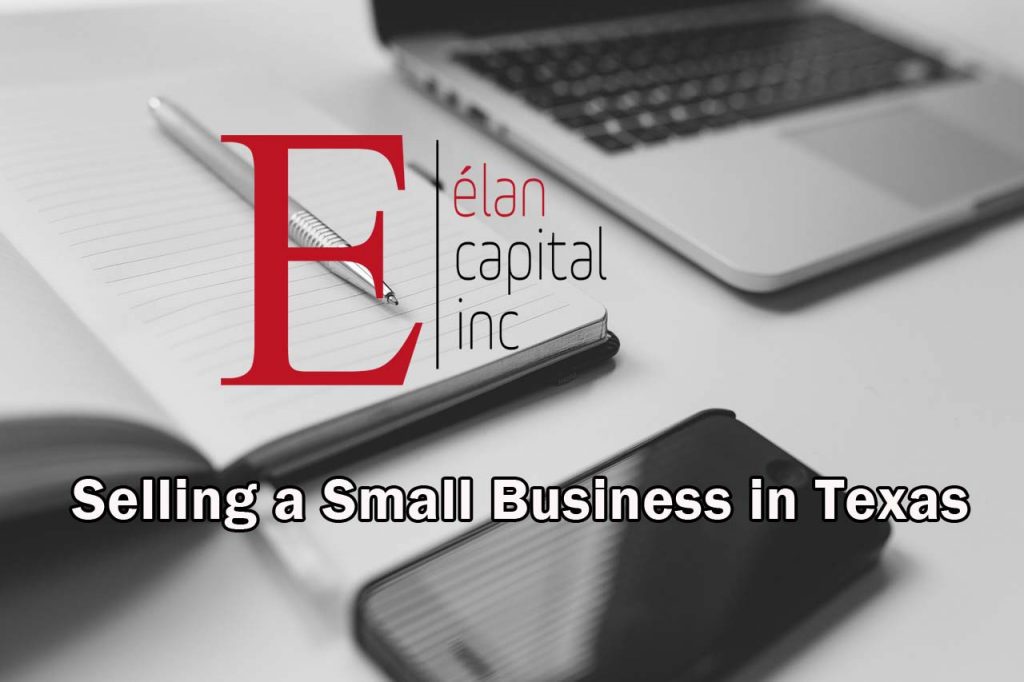 Business brokers provide skilled negotiating tactics for business sellers so you end up with the best deal.
Business brokers know more buyers that are looking for a business to buy than you will ever find on your own. They have set up connections and networks for years.
Business brokers market your business. Brokers efforts are concentrated on marketing and sales efforts directed towards business buyers including private equity groups, other businesses and individuals looking to buy a business.
Business brokers maintain confidentiality when selling your business. It's very difficult to maintain confidentiality when selling a business in Texas without utilizing an intermediary, like a business broker. A buyer must be qualified and sign a confidentiality agreement before learning that your business is for sale. Business brokers are very experienced in marketing a business without identifying it.
Brokers provide business continuity. Selling a business is time-consuming for an owner, and with using a business broker, the owner can maintain focus on running the business while a broker is working on the sale.
Business brokers have other businesses for sale. A broker's inventory of businesses for sale attracts more buyers for your business. At Elan Capital, we often find buyers buy a different business than the one they initially contact us about. By offering a variety of different businesses, business brokers attract more potential buyers that will be exposed to your business.
Business brokers are experienced at valuing a businesses. A good business broker can cast a better light on the earnings of your business in order to show a buyer all of its economic benefits, increasing the value of your business to the buyer. At Elan, our expertise helps our sellers set the right asking price for their business and helps buyers understand how to properly value a business.
Business brokers have experience in selling businesses. A business owner typically sells a business once. Brokers to it all the time. Both buyers and sellers are frequently not familiar with all of the business buying/selling processes and business brokers help both in order to facilitate a sale of the business, including all required paperwork.
Most importantly, business brokers like Elan Capital help serious buyers get financing when needed to buy your business.
The little things. Selling a Small Business in Texas
It's common for a prospective buyer to inquire how long you'll be sticking around after the sale and you may respond with you'll "be around as long as needed." Then later in the sale process, you find out that the buyer is thinking about a two-year transition period when you and your wife had been discussing moving away a few months after the close.
It's these kind of little details that could blow up a deal. Had your initial response been that you would be around three to six months and then could provide consulting services as needed from afar, the buyer would not be counting on long-term in-house support for a couple years.
And this is just one thing your broker reviews with you. Because it's the little things that trip up a good deal.
Selling Tip: Remember, it's always easier to give the buyer more than expected than to take something away.
The big things. Selling a Small Business in Texas
With offices in Dallas/Fort Worth, San Antonio, Austin, Houston, El Paso, and Lubbock, Elan will work hard when selling a small business in Texas (so you won't have to and can keep your business running smoothly).
While we could write a book on selling a small business in Texas (since we live and work here), here are the primary benefits of using Elan;
Valuing your Business – No one can deny that putting a value on a business is far more difficult and much more complex than valuing a automobile or even a home. Every business is different, with hundreds of variables that will have an impact on the value. Business brokers have access to business current transaction databases that can be used as guidelines or reference points. But the best way for a business owner to truly feel comfortable that he got the best deal is to have several financially viable parties bidding for his business, which is much more likely when using the resources of a professional business broker.
Confidentiality –  The benefits here can not be understated. A business broker will protect the identity of the company and contact only owner approved buyers through a blind profile which is a document describing the company without revealing its identity. All too often,  when a business owner put a business up for sale themselves, word of a sale leaks out, creating unneeded uncertainty from both customers and employees.
Business Continuity – Selling a business is time-consuming for an owner, and with a business broker, the owner can maintain a focus on running the business and tending day-to-day revenue generating activities while the broker is working hard on the sale. This keeps the value of your business higher during the sale process.
Reaching Potential Buyers –  Business brokers have the tools, resources and connections to reach the largest possible base of interested, qualified buyers. It's what we do.
Marketing – A business broker can help present your company in the very best light, maximizing the sale price. Business brokers possess a keen understanding of the key values that buyers are looking for and can assist in identifying adjustments that can lead to a better selling price.
The Balance of Experience Levels the Playing Field – Most corporate business buyers have acquired multiple businesses while sellers generally have only one sale, their own business. An experienced business broker will level the playing field for a business owner making his one and only business sale. This is one of the biggest benefits of using a qualified business broker.
Closing the Deal – Since the business broker's sole function is to sell the business, there's a much better chance that a deal will be closed in less time. A faster sale helps mitigates the risk of employee uncertainty, customer defection and predatory competition tactics.
Before moving forward with selling a small business in Texas, it is important that you understand the all steps and processes involved. Taking the time to determine what you want from the sale, planning carefully, obtaining professional advice from Elan Capital, and negotiating a satisfactory price and acceptable terms will help make the sale a once in a lifetime success.
With offices in Dallas/Fort Worth, San Antonio, Austin, Houston, El Paso, and Lubbock, Elan Capital Inc. can provide critical support to individuals who are typically going through the sale process for the first and only time.
Questions? Give us a call.