Need Cash? Then call the experts in small business lending in Austin at Elan Capital – Fast approvals and funding for virtually any small business need.
Small Business Lending in Austin Texas
Bank Said No? There are Alternative Financial Services in Austin and there is Elan Capital Inc. The difference? Elan is not aligned with just one lending source and has direct access to dozens of alternative lenders.
Chances are good that as a small business owner, you are probably familiar with the concept of the "Main Street Credit Gap", even if the term itself is unfamiliar. The Main Street Credit Gap refers to the fact that since the great recession of 2007/8, small business loans are still quite scarce nearly a decade later.
At its core, alternative lending refers to the lending industry outside of traditional banks. But in recent years, especially since the 2008-9 financial crisis, alternative lending has grown tremendously. Lenders have grown in technology, data analysis, and special lending algorithms. New lending sources began to capture the small business market previously ignored and increasingly denied by banks. And since the financial crisis, when credit tightened more than ever, these small business owners have been heading to the these new lenders instead of their local banks.
Small Business Lending In Austin – How Lending Has Changed
Everyone will agree that access to capital is the engine that drives the small business economy. Without funding, entrepreneurs and owners are simply unable to either acquire new companies or grow their small business. But while banks insist that they're ready to extend financing to all qualified borrowers, small business owners consistently argue that it's often more than difficult to secure a commercial loan, and virtually impossible to get a business loan for under $200,000.
The Numbers Back it Up
The numbers show that many of the national banks aren't making nearly as many loans to small businesses as they used to. According to a recent Wall Street Journal report, these banks have reduced the volume of loans to small businesses by more than 38 percent since 2006.
It's Not Just You
It's genuinely not your credit score. Banks just don't like to make small business loans. It's not profitable.  A loan for $250k costs as much to process as a $2 million loan. Back in the day, alternative lending was for the low credit scores. Now it just doesn't matter. The banks are lending less and less to any small business.
Small Business Lending in Austin – Redefined
The best of both worlds.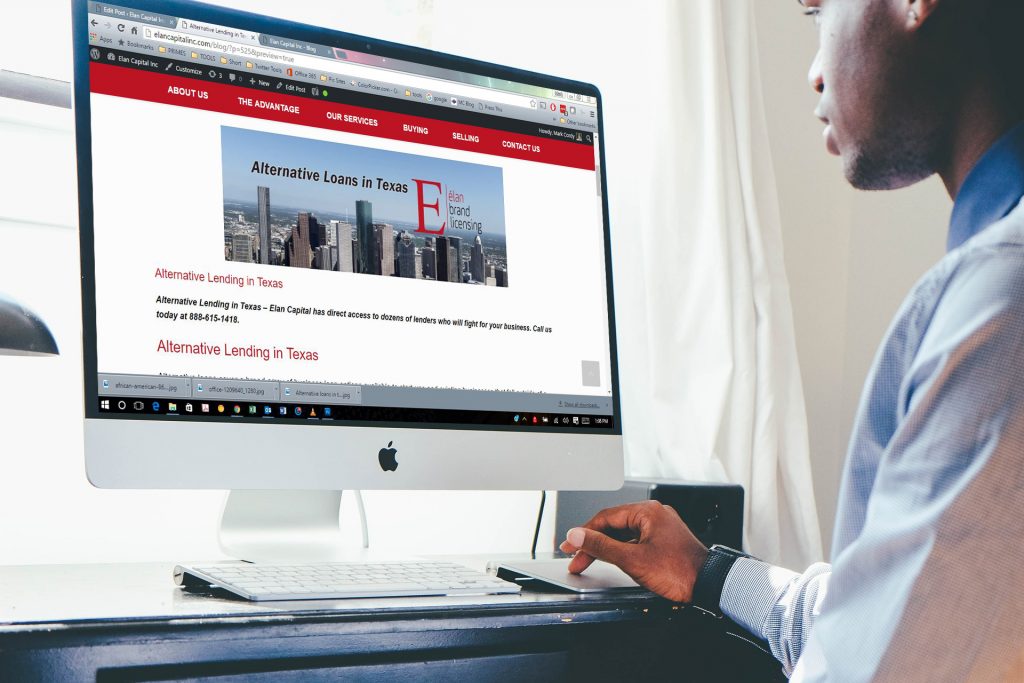 Back in the day, your bankers handled you checking account, savings, car loans, business and personal loans, college loans and more. They knew your name and had lollipops for your children (who they also knew by name). While those day have largely disappeared, Elan keeps the personal, human touch and applies it to the new online world of alternative lending. 
What Are My Options for Small Business Lending in Austin Texas?
ELAN CAPITAL, INC.
SMALL BUSINESS LENDING IN AUSTIN TEXAS REDEFINED
Today, many business owners are turning to alternative lending options and steering clear of banks and their ridiculous, antiquated loan qualifications. But most online lenders only utilize one specific lender or auction your online application to the highest bidder, leaving you with plenty of unanswered questions.
At Elan Capital, we provide simple and direct answers and totally transparent pricing. Elan appeals to today's entrepreneurs because we offer the widest variety of alternative lending in Texas:
A Term Loan is a lump sum you borrow and repay on set terms, including the annual percentage rate. This is generally the least expensive type of financing.
A Line of Credit gives you access to a set amount of cash that you can tap when necessary. This is generally used by businesses that need short-term financing to bridge cash flow gaps (ex. seasonal businesses).
Invoice Factoring, also known as invoice financing or accounts receivable financing, is an option for small businesses that deal with unpaid invoices. Instead of just waiting to be paid, you can get an advance on those invoices, which you then pay back along with a fee when customers settle their accounts. This is popular option.
A Merchant Cash Advance offers a way to get an cash advance on future credit card/debit card sales.
Elan Capital Inc, has many subsets including;
INVENTORY LOANS
UNSECURED BORROWING 
FACTORING RECEIVABLES
WAREHOUSE FINANCING
ACCOUNTS RECEIVABLE LOANS
AGRICULTURAL LOANS
FLOORING LINES
MACHINERY LOANS 
INSURANCE AGENCY LOANS
MEDICAL PRACTICE LOANS
WORKING CAPITAL LOANS
GOVERNMENT GUARANTEED LOANS 
INTERNATIONAL LOANS
ACQUISITION LOANS 
EQUIPMENT LEASING
BUSINESS START-UP LOANS 
COMMERCIAL PROPERTY LOANS
SBA LOANS
AND MUCH MORE
The increased demand for quick and easy access to working capital has sparked fierce competition among lenders to provide alternative lending options that meet the needs of small businesses. Elan Capital has access to some of the best options available for small business loans in here in Texas.
Most importantly, wouldn't it be nice if you could talk with a local professional?
Why?
Because having a solid understanding of all the options available and how they meet your business needs is key to determining the lending option that is best for your small business here in Austin Texas. 
Elan Capital has a multitude of options available for small businesses to obtain the capital they need to start up, sustain operations, expand a business and ultimately succeed. We look forward to a long, beneficial relationship.
Maybe you need a working capital loan, or a bad credit loan, or a general cash advance, or a loan for new equipment…you get the idea.
You need to talk to a financing expert.
You need to talk to Elan.
With offices in Dallas/Fort Worth, San Antonio, Austin, Houston, El Paso, and Lubbock, Elan combines small business alternative lending in Texas with a personal touch not found "online". 
Additionally, as an independent entity, Elan is not tied to one lender and instead, we can have many lenders working their hardest, to gain your business. All your questions answered. No hidden fees.
At Elan Capital, we understand that business owners here in Texas, simply needed a better way to fund their business. Elan supports growing businesses by providing credit when you need it without the hassle. We add value and our relationship grows as your business grows.
Today, with one phone call, you can have dozens of lending sources competing for your loan.