Elan Capital Inc provides new business lending throughout Texas, and with an office in Austin, we offer Startup Loans in Austin.
Startup Loans in Austin Texas
If you've searched for business startup loans in in Austin, or anywhere, you've likely seen the Google Ads for Fundera, Lendio and the rest. Basically, the fine print is, it's a credit card against your personal credit score.
And when you are starting a business, you need cash in the bank.
Cash advances on a credit card? Much higher percentage than purchases plus extra fees…it's like paying 2-3 loans.
Additionally, one of the biggest challenges you'll face as a new startup is getting enough capital to get your business off the ground. Finding small business startup loans can often be a confusing and frustrating experience.
Business Startup Loans in Austin – Elan Capital Inc.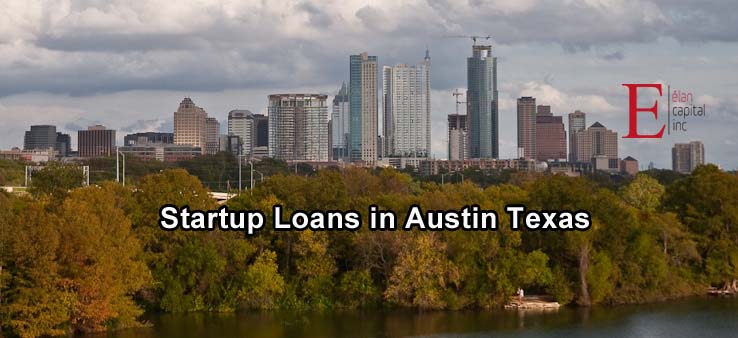 So you have a great idea for a business. Back in the day, (ok, way back) you could open up a hardware store with money from your dad.
Today, you collateralize your home, your car and your dog to get a loan as a new business.
So how do you get a small business startup loan, without assets or collateral?
How do you get a real term loan, not a credit card?
How do you get real cash up to $150,000?
Elan Capital.
What is News – The big news here in Texas, is that Elan has secured two new sources for startup loans in Austin and throughout Texas.
And Even Bigger News – these startup loans in Austin feature the lowest cost of unsecured credit available. Many of our clients are paying single digit rates for their startup loans here in Austin and throughout Texas.
Startup Funding up to $150,000
No Advance Fees – No Upfront Costs
No Assets or Collateral Needed
Low Rates
Even of your business is pre-revenue or you have no assets or collateral, there is unsecured funding available.
And, if you have just recently started a business and can show 3 months of sales of 10k or more, we have even better news for you!
This is not a credit card program. This is a term loan program that provides cold hard cash to get your business up and running smoothly.
We'll target your application to the banks and credit unions most likely to provide exactly what you and your company needs!
This benefits you twofold. It increases your chances of successful funding, and keeps your credit from getting "dinged" by too many credit inquiries. Additionally, it also helps to build solid relationships with lenders in the future.
One of the biggest advantages to getting a startup business loan with the help of Elan Capital is that the application process is quick and easy, and there are no upfront costs or application fees. The loans are available to nearly every type of business, and no business license is required, which makes this type of loan ideal for new businesses and startups.
Utilize startup business funding to bolster your business credit score, and put your company in a desirable financial position.
The First Step is to Call Us.