Where to Find Small Business Loans in Dallas – Explore the variety of options provided by Elan Capital right here in Dallas. Contact a loan specialist today.
Where to Find Small Business Loans in Dallas
No one can argue that many types of small business loans are offered by both federal and independent business financing companies.
However, the variety of options varies widely, depending on the type of lender you choose.
Most traditional lenders tend to offer very few financing options. These lenders (traditional national and local banks) often specialize in providing these single or few types of small business loan options, which makes competent direct lenders, such as Elan Capital, a valuable asset when seeking specific types of business funding and repayment options.
As an alternative financing company, Elan Capital has exclusive connections to more than 75 lenders in the global marketplace, made up of all types of direct specialized lenders, along with traditional lenders as well.
And this is what makes our services so valuable to small business owners here in Texas – if you're looking for a loan from a certain bank or lender, we can get that for you.
Where to Find Small Business Loans in Dallas? Elan Capital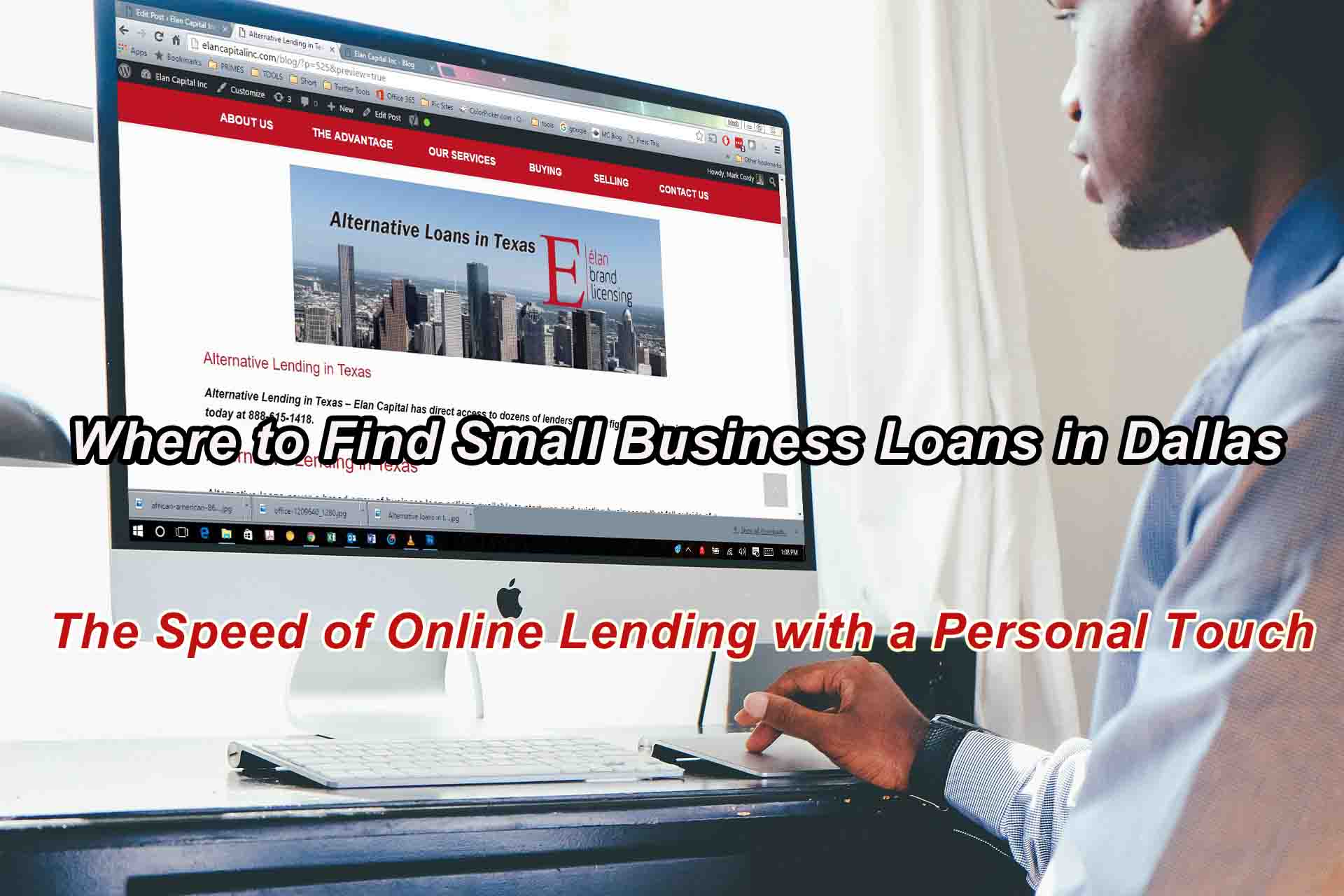 With over 75 commercial lending sources in the US, Canada and the UK, Elan Capital matches small-to-medium businesses with the most relevant lenders to provide them with the simplest and quickest funding solutions.
And with offices in Austin, Dallas, Houston, San Antonio, El Paso and Lubbock we look forward to working for you.
No Minimum Credit Score Required
You don't need to have squeaky-clean credit to qualify for a small business loan—we work with all credit profiles here at Elan Capital.
Loan Amounts From $10,000 to 5 Million
With a fast, simple funding process – Gain access to small business funding in as little as 24 hours.
Our loan experts here in Texas offer personal service not found online.
Elan Capital knows the business funding world. Elan Capital knows the ways of these lenders and has the contacts to secure financing for virtually any type of business.
Where to Find Small Business Loans in Dallas
Elan Capital Inc, has many subsets of alternative small business loans in Dallas TX including;
BUSINESS START-UP LOANS
WORKING CAPITAL LOANS
INVENTORY LOANS
UNSECURED BORROWING 
FACTORING RECEIVABLES
WAREHOUSE FINANCING
ACCOUNTS RECEIVABLE LOANS
AGRICULTURAL LOANS
FLOORING LINES
MACHINERY LOANS 
INSURANCE AGENCY LOANS
MEDICAL PRACTICE LOANS
GOVERNMENT GUARANTEED LOANS 
INTERNATIONAL LOANS
ACQUISITION LOANS 
EQUIPMENT/ VEHICLE LEASING
COMMERCIAL PROPERTY LOANS
SBA LOANS
AND MUCH MORE
If you would like to explore all of your options, and find you the perfect small business loan in the marketplace for you and your business, give us a call. Because it's what we do. Every day.
Fill out our 60 second application online, or give an Elan representative a call at
to discuss which small business loan is the perfect fit for your specific needs.