Unsecured New Business Loans in Lubbock Texas – Fund your business today. Startup and many other small business loan options at Elan Capital.
New Business Loans in Lubbock Texas
Need Startup Funding? Have a good deal you can't pass up on inventory? Planning on an expansion? Need new equipment?
Elan Capital helps small businesses throughout Texas. In addition to having an office right here in Lubbock, Elan also has offices in Dallas, Austin, Houston, San Antonio and El Paso. 
Startup Loans
Business Loans
Lines of Credit
Working Capital 
Professional Practice Loans
Merchant Cash Advance Loans
Equipment Leases
Receivable Factoring
SBA Loans
and more…
Startup and New Business Loans in Lubbock Texas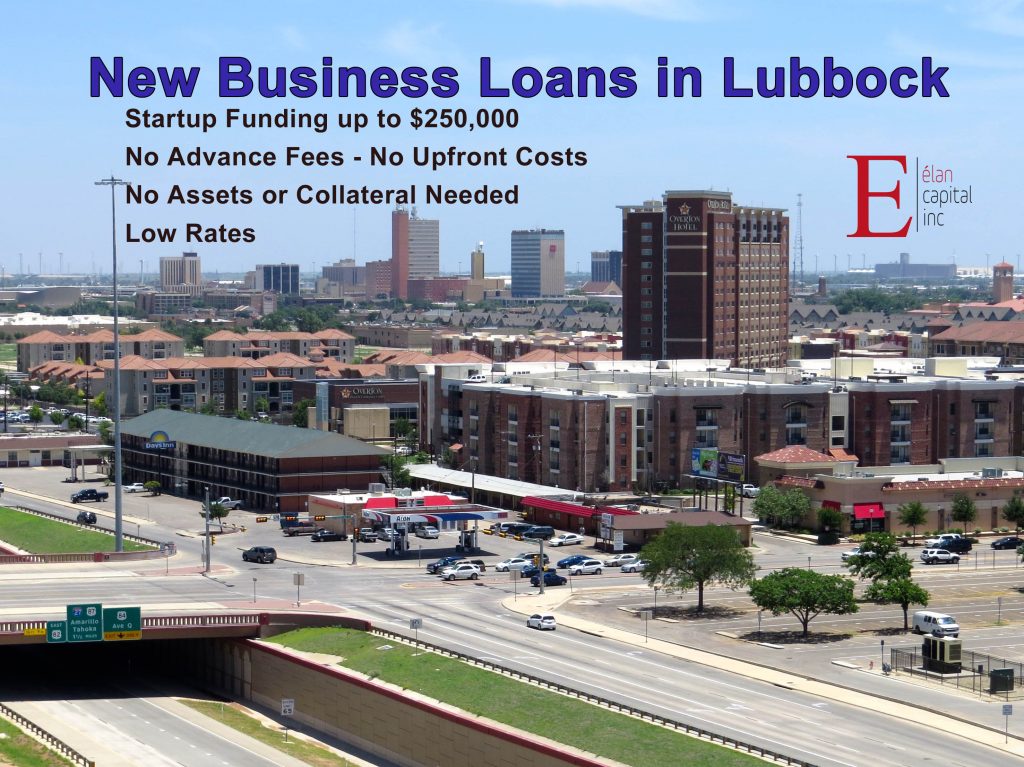 Elan Capital, a leading provider of small business loans located here in Texas, now has access to multiple lenders who will provide startup/ new business loans in Lubbock, and throughout Texas, with unsecured lending up to $250,000.
These new business loans in Lubbock feature the lowest cost of unsecured credit available. Many of our clients are paying single digit rates for their startup loans here in Texas.
Startup Funding up to $250,000
No Advance Fees – No Upfront Costs
No Assets or Collateral Needed
Low Rates
Even of your business is pre-revenue or you have no assets or collateral, there is unsecured funding available.
And this is not a credit card. This is a real loan to get your business up and running smoothly.
Small Business Loans in Lubbock – Elan Capital
Elan Capital Inc brings together the personal service that banks were once known for, with the speed and accuracy of the new FinTech (online) marketplace where you never actually get to talk to anyone.
When your business works with an Elan Capital Consultant you'll gain access to hundreds of funding sources across the United States as well as Canada, Australia, South America, and the U.K. These funding sources are monitored daily for the best interest rates and terms available to your business.
Elan has access to dozens of lenders and hundreds of programs.
For instance, some lenders specialize in new business and startup loans, and some work with low credit scores. We have lenders that concentrate on ultra-fast microloans, while other lenders we utilize prefer lines of credit, or short/ long term loans. Also, a handful of our lenders concentrate on working capital loans or unsecured business loans, while others specialize in merchant cash advance and factoring.
Additionally,  a few lenders primarily target construction loans and real estate loans, while others focus primarily on vehicle and equipment leasing and its related tax benefits. And some even focus on various different types of businesses, such as Professional Practices, Farming/Agricultural, Health Care and more.
And with offices in Dallas, Houston San Antonio, El Paso, Lubbock and Austin, Elan Capital is ready to help you today.
Small Business and New Business Loans in Lubbock TX From a Local Company You Can Trust
Elan Capital, Inc.