When looking over small business funding options in Texas, there are banks, then there is everyone else. How do you choose the right lender here in Texas?
Small Business Funding Options in Texas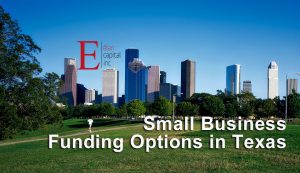 Back before the 2008 Great Recession, back before smartphones and car that drive themselves, while looking over small business funding options in Texas, it's very likely you walked into your local bank. It was there you had a friendly conversation, telling the loan officer how great your business is, and how the loan would help you. and not real long after that, you got your answer. And then paid for that equipment you had your eye on for so long.
You could do the same thing today and it's just as likely the banker will explain that they don't process small loans anymore, and hand you a credit card application.
How times have changed.
Small Business Funding Options in Texas – The Reality
But the reality today is that there are more choices than ever for small business funding here in Texas.
Because by now you have heard of online lending.
But how do you choose a lender? Do they have a presence here in Texas? Is there fine print? What are the customer service issues? And most importantly, which lender is actually looking for a customer...just like you?
The Best Small Business Funding Options in Texas are at Elan Capital
At Elan, we have direct relationships with dozens of different lenders. And each lender has multiple programs. This translates to hundreds of different lending possibilities that cover every type of business or need. And that's a big difference.
This is important because Elan Capital can save time by having your loan or lease directed to the most appropriate funding source. At Elan Capital, you are not limited to one funding source. A bank has one program. Elan Capital has dozen's of the top lenders and hundreds of programs, available for our clients. By having access to an Elan Capital Consultant you'll have instant access to hundreds of funding programs across the United States as well as Canada, Australia, South America, and the U.K. These funding sources are monitored daily for the best interest rates and terms available to your business.
Elan Capital Can Find Funding for You Here in Texas – FAST
For instance, some lenders specialize in low credit scores, while others focus on start-up, franchise and new business loans. We have lenders that concentrate on ultra-fast microloans, while other lenders we utilize prefer lines of credit, or short/ long term loans. A handful of our lenders concentrate on working capital loans or unsecured business loans, while others specialize in merchant cash advance and factoring. A few lenders primarily target construction loans and real estate loans, while others focus primarily on leasing. Many even focus on various different types of businesses.
The Bottom Line
There is a loan for your business, and it's not at your bank. It's waiting for you at Elan Capital.
MERCHANT CASH ADVANCE
BUSINESS LINE OF CREDIT
PROFESSIONAL PRACTICE LOANS
INVENTORY LOANS
UNSECURED BORROWING 
FACTORING RECEIVABLES
WAREHOUSE FINANCING
AGRICULTURAL LOANS
FLOORING LINES
MACHINERY LOANS 
INSURANCE AGENCY LOANS
MEDICAL PRACTICE LOANS
WORKING CAPITAL LOANS
ACCOUNTS RECEIVABLE LOANS
GOVERNMENT GUARANTEED LOANS 
INTERNATIONAL LOANS
ACQUISITION LOANS 
EQUIPMENT LOANS AND LEASING
BUSINESS START-UP LOANS 
FRANCHISE LOANS
COMMERCIAL PROPERTY LOANS
SBA LOANS
AND MUCH MORE
All flexible and custom-designed to fit your needs.
Small Business Funding Options in Texas – Elan Capital – Lending Redefined
With offices in Dallas/Fort Worth, San Antonio, Austin, Houston, El Paso, and Lubbock, Elan Capital provides small business loans in Texas with a personal touch not found online.
At Elan Capital, we provide simple and direct answers and totally transparent pricing. Elan appeals to today's entrepreneurs because we offer the widest variety of lending options in Texas.
At Elan Capital, we understand that business owners here in Texas simply needed a better way to fund their business. Elan supports growing businesses by providing credit when you need it without the hassle. We add value and our relationship grows as your business grows.