Small Business Loans – Fort Worth Texas – If your business is Fort Worth Texas, doesn't it make sense to work with a Texas-based Lending Company?
Small Business Loans – Fort Worth Texas
Traditional bank lending cratered since the bank crash of 07/08. And it never recovered. As a matter of fact, while big business loans of $5 million or more still exist at some banks, they just don't lend to small businesses in amounts of $5 million or less.
That's where Elan Capital, a Texas-based lender headquartered in Irving, comes in.
Personalized lending to fit your needs.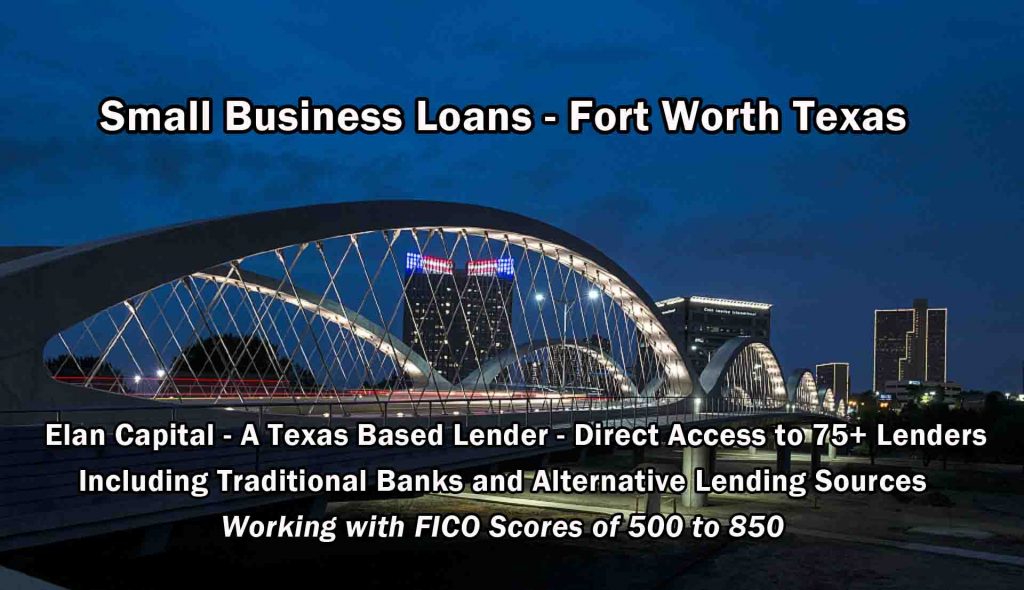 And, you don't need to have squeaky-clean credit to qualify for a small business loan here at Elan—we work with all credit profiles with FICO scores of 500 and up.
Flexible Loan Amounts From $10,000 to $5 Million
Terms From 6 Months to 10 Years
Only 3 Months in Business
$120,000 in Annual Sales/ $10,000 Average Monthly
Credit FICO Scores of 500 and Up
Funding in as little as 1-3 days
Better Credit Scores Receive Offers From Over 75 Funding Sources
Small Business Loans – Fort Worth Texas – Elan Capital Inc.
Small Business Loans Made Easy
We have all small business loan options, from traditional banks to alternative lenders in one place which helps you get the capital you need.
Elan Capital is proud to help your business get the capital you need.
Our process is easy. You answer a few simple questions on an easy to understand application. We match you to the best options available to you and help you choose the small business loan that's right for you.
It's that simple. No jargon or complicated processes. No hidden fees. Transparent. In Person.
Lending, Supporting, Connecting
Elan Capital knows that entrepreneurs create vibrant communities. We deliver a level of personalized service you won't find at any other lender.
Period.
At Elan, we provide funding solutions that fit your needs.
Our loan experts work one-on-one with you to custom tailor solutions for you, your business and your goals.
Make It Happen.
Today, with one phone call, you can have dozens of lending sources competing for your loan.